The much anticipated ApeCoin (APE) staking is finally live, but does it mean this is the end of the APE rally?
Horizon Labs announced that the pre-commitment period of the APE staking is live at apestake.io. Users will be able to accrue staking rewards from Dec. 12 onward.
Within the first 12 hours, the staking contract has over $16 million in total value locked, according to Etherscan.
ApeCoin Staking Kicks Off
There are four staking pools to facilitate ApeCoin staking. The ApeCoin pool is for the APE holders that don't own NFTs. The total staking allocation for this pool is 30 million APE.
The Bored Ape pool is allocated for the holders of Bored Ape Yacht Club (BAYC) NFTs. It lets the holder stake 10,094 APE for each BAYC they own. The Mutant Ape Yacht Club (MAYC) pool lets the NFT holders stake 2,042 APE per MAYC.
There's also a paired Bored Ape Kennel Club (BAKC) pool for the owners of BAKC. But, they need to pair BAYC or MAYC with their BAKC NFT to reap staking benefits. 
The users of the United States, North Korea, Syria, Iran, Cuba, Russia, Crimea, Donetsk, and Luhansk are geoblocked from staking UI. According to the announcement, these countries are geoblocked due to regulatory issues. The community especially was critical of the decision to geo-block the U.S.
The End of the APE Rally?
The APE price has been pumping since mid-November in anticipation of the ApeCoin staking rollout. ApeCoin is up over 50% since its local bottom in mid-November.
And it's not just ApeCoin, there was also a surge in NFT sales volume in the Bored Ape ecosystem.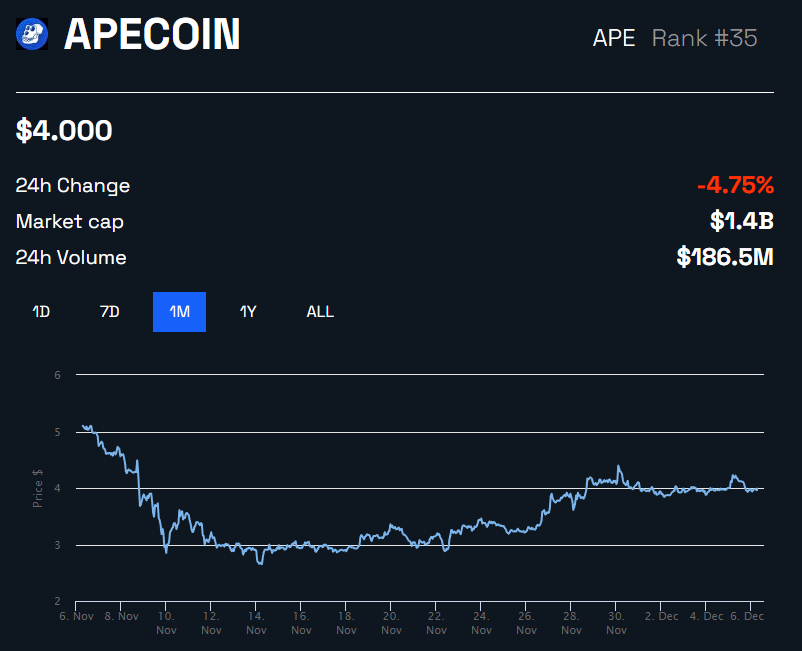 But, as the proverb goes, "Buy the rumor, sell the news." If this holds true, the market might witness the APE price and NFT volume fall back on their downward trajectory.
There are also fears that the APE supply could start to balloon as more users jump into staking.
Got something to say about ApeCoin staking or anything else? Write to us or join the discussion on our Telegram channel. You can also catch us on Tik Tok, Facebook, or Twitter.
For BeInCrypto's latest Bitcoin (BTC) analysis, click here.