Investors are flocking to crypto alternatives following the banking crisis, involving banks such as Silicon Valley Bank, Signature Bank, and Silvergate.
The financial turmoil from the closure of several banks has positively impacted DEX and CEX tokens. Several of these assets have spiked up in price over the past 24 hours, including those of OKB, GMX, dYdX, and GT.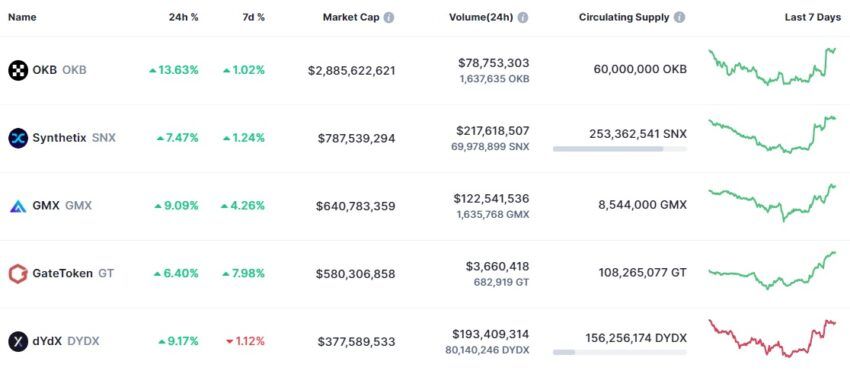 While it's unclear whether the banking crisis is the sole reason for the increase in prices, the general consensus is that some investors are flocking toward these specific tokens. In the past 24 hours, OKB is up by 13%, GMX by 10%, dYdX by 8%, and GT by 7.5%.
The broader crypto market has seen a large increase in overall value in the last day after taking a hit a few days prior. Other kinds of tokens that are on the rise are those related to tokenization. SNX is a standout example, with a nearly 8% rise in price.
The overall market cap of the crypto market is now $1.08 trillion, which represents a 5.59% increase in the last day. Meanwhile, stocks of many firms are seeing heavy losses, often in the doubles digits. Most of these relate to banking institutions.
Bank Crashes Create Trying Times for Global Market
Several banks have fallen in the past few weeks. One of the most notable is Silicon Valley Bank, which some fear may start a contagion. HSBC acquired the U.K. division of the bank for a single pound, or about $1.21, helping U.K. customers.
The Federal Reserve also decided to shut down Signature Bank, which focused heavily on crypto. The authorities cited system risk as one of the reasons behind the decision.
Lastly, there was Silvergate, which missed its annual report filing. It eventually became insolvent, leading to investors moving to stablecoins.
Crypto Criticized for the Banking Crisis
Some in the industry believe that the U.S. authorities' moves on the banks are anti-crypto. A board member of the Signature bank said as much, commenting that it was a "strong anti-crypto message." However, Blockchain Association Chief Policy Officer Jake Chervinsky believes that crypto isn't responsible for bank problems.
In any case, the government will certainly try to impose some control over the market.
Bitcoin and other assets are holding strong as global markets undergo turmoil.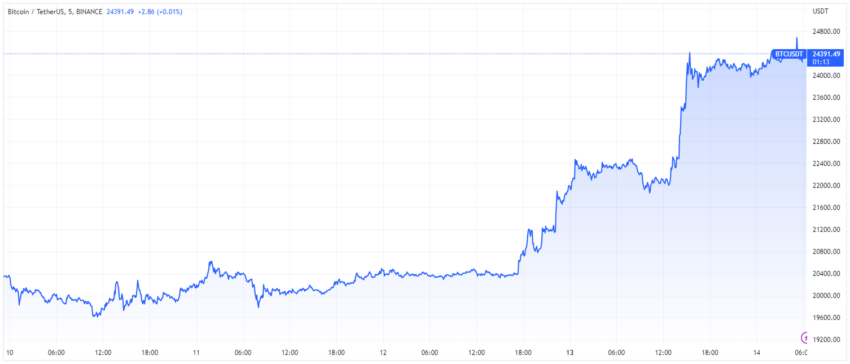 BTC is up by nearly 10% over the past 24 hours and is valued at approximately $24,500 at the time of publishing.
Sponsored
Sponsored
Disclaimer
BeInCrypto has reached out to company or individual involved in the story to get an official statement about the recent developments, but it has yet to hear back.