With crypto casinos, it is often hard to get a picture of what is going on behind the scenes. What are the most popular games, and which cryptocurrencies do people like to use the most? 
But thanks to Softswiss, we have an amazing insight into a large chunk of the crypto casino business with their report, Stake of Crypto, which looks back at the first half of 2022.
If you are not familiar with SoftSwiss, they provide the software that over 600 crypto casinos run on. They are the biggest service of their kind in the crypto gambling world, and power some of the best known brands, such as BitStarz and BetChain. The report, Stake of Crypto H1 2022, looks back in the first half of 2022. 
Key takeaways:
The top three popular cryptocurrencies at online casinos are BTC, ETH, and LTC.
Overall the dominance of Bitcoin is down by almost 10% from the year before.
USDT has overtaken DOGE as the fourth most popular cryptocurrency
Most Popular Cryptocurrency
Bitcoin holds the lion share, but new cryptos loom on the horizon.

Stake of Crypto H1 2022 report
The big news here is that Bitcoin, as we would expect, is the most popular cryptocurrency at online casinos in 2022.
And as it was in 2021, the list of the top three cryptocurrency remains Bitcoin, Ethereum, and Litecoin.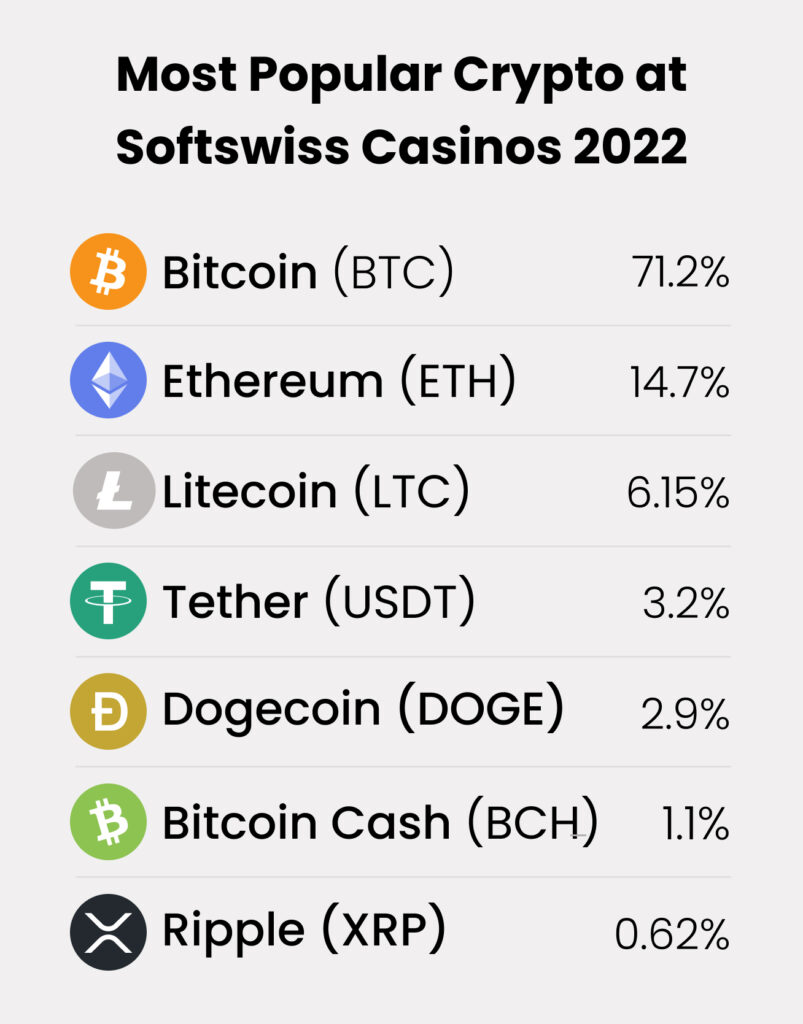 But when you look a little closer at the numbers it is interesting to notice that Bitcoin has lost a little bit of its foothold, dropping from over 80% in 2021, to 71% in 2022. In its place, every other coin in the top 5 has risen in popularity, with ETH in particular rising from a 9.5% to 14.7% share.
| Coin | H1 2021 | H1 2022 | Change |
| --- | --- | --- | --- |
| BTC | 80.75% | 71.2% | -9.5% |
| ETH | 9.5% | 14.7% | +5.2% |
| LTC | 4% | 6.15% | +2.15 |
| DOGE | 2.8% | 2.9% | +0.1% |
| USDT | 2% | 3.2% | +1.2 |
The other big story from looking at the top six cryptocurrency is USDT has overtaken DOGE as the fourth most popular cryptocurrency.
Crypto vs Fiat
Another interesting aspect of the report is the share between crypto and fiat deposits at Softswiss casinos. Comparing the first half of 2021 and 2022, we can see a general trend in favor of the use of cryptocurrency.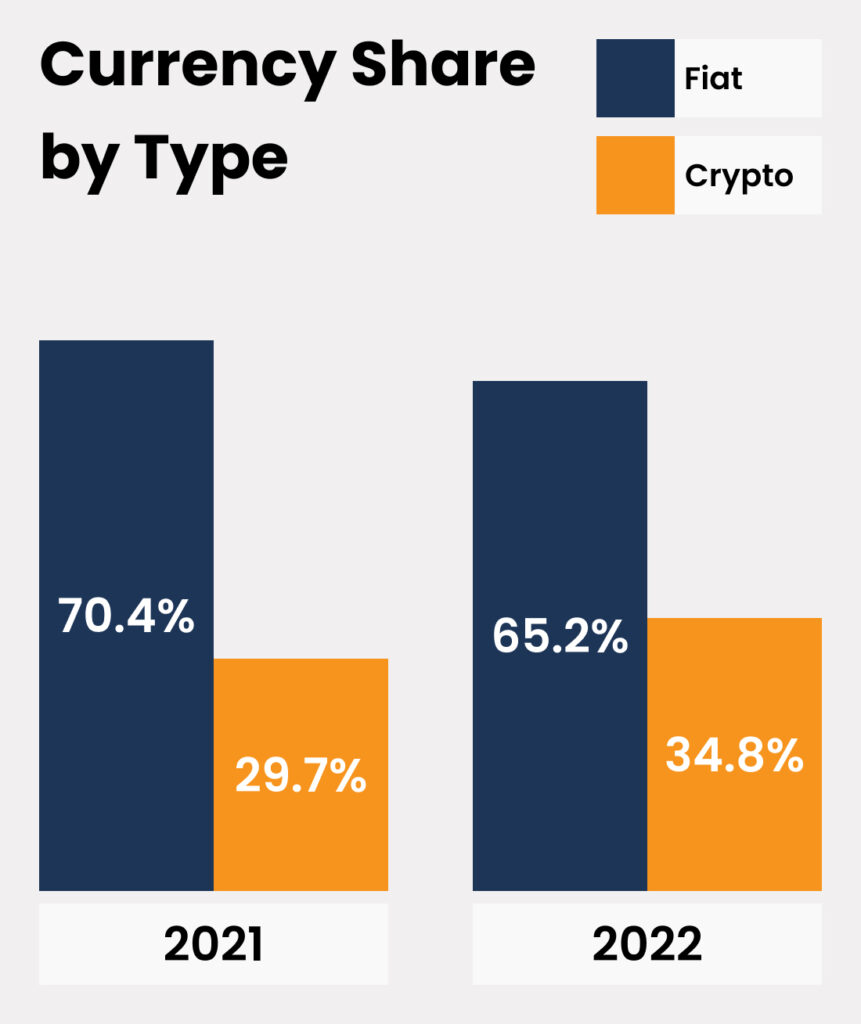 Tough Time for Crypto
This general trend in favor of cryptocurrency is even more interesting when you take into account the very difficult time cryptocurrency had at the start of the year. Crypto was, probably for the millionth time, declared dead and buried. But the interesting thing is that this does not necessarily mean that people are less likely to use cryptocurrency – if anything on the contrary as prices drop it makes crypto more accessible.  
This very trend was highlighted in the report: Anytime crypto has fallen, we have called it a 'crypto winter', but the truth is the situation is quite healthy. The world's economy is in a recession and it is a good sign that crypto is following the larger markets. We are seeing crypto transaction volumes rising, as the value of cryptocurrencies decreases. The same is true for iGaming, where smaller prices can mean there is an uptake in the use of crypto.

Vitali Matsukevich, COO at Softswiss