Stablecoins rule the trading volume, while the last Friday concludes with relatively quiet action in the year of extreme crypto turmoils.
2022, the year of one of the most extreme crypto winters, is approaching a conclusion. This year, the market witnessed what the investors must not have imagined in their wildest dreams.
It is the first time in the history of Bitcoin that all the quarters of the year are negative.
Crypto enthusiasts will remember this year for the much-awaited Ethereum Merge and unexpected events such as the collapse of Luna, Three Arrow Capital, centralized lending protocols and exchanges, and eventually, the world's second-largest exchange, FTX. Let's dive into the actions of the last crypto Friday of 2022.
Stablecoins Dominate the Trading Volume
The crypto market was quiet on the last Friday of 2022, considering the holiday season. However, most cryptocurrencies have dressed in Santa's favorite color – Red.
According to data from TradingView, the total crypto market cap is down 0.5% today, from around $758 billion to $754 billion. The Altcoin market (excluding Bitcoin and Ethereum) is down from $291.7 billion to about $290 billion, nearly 0.6%. Bitcoin dominance stands at 42.16%, a slight fall of 0.06%
As per CoinMarketCap, the volume of all stablecoins is now $25.90 billion, which is 92.48% of the total crypto market 24-hour volume. The trading volume of USDT alone stands at $19 billion, nearly equal to the sum of trading volumes of Bitcoin and Ethereum.
Solana Recovers 23% From the Lows at $8
The leading cryptocurrencies, Bitcoin and Ethereum, had a slow day with minimum volatility. Bitcoin is trading 0.7% down from today's opening; likewise, Ethereum is trading nearly 0.6% down from the opening price. But Solana had a disruptive trading day.
Solana, once one of the largest holdings of Alameda Research, got hit worse after the collapse of the FTX group. This week, Solana's price touched $8 from a high of $11.5 due to various adverse developments. But, since Thursday's low of $8, the price has recovered more than 23%, trading at $9.95 as of writing.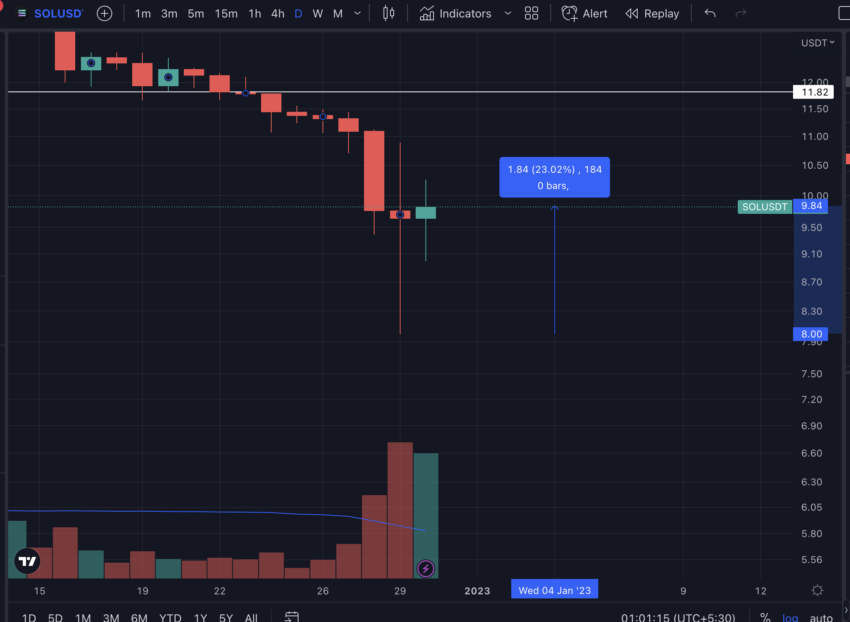 Read BeInCrypto's Solana predictions for January 2023 here.
Got something to say about stablecoins, the last crypto Friday of 2022, or anything else? Write to us or join the discussion on our Telegram channel. You can also catch us on Tik Tok, Facebook, or Twitter.
For BeInCrypto's latest Bitcoin (BTC) analysis, click here
Disclaimer
BeInCrypto has reached out to company or individual involved in the story to get an official statement about the recent developments, but it has yet to hear back.