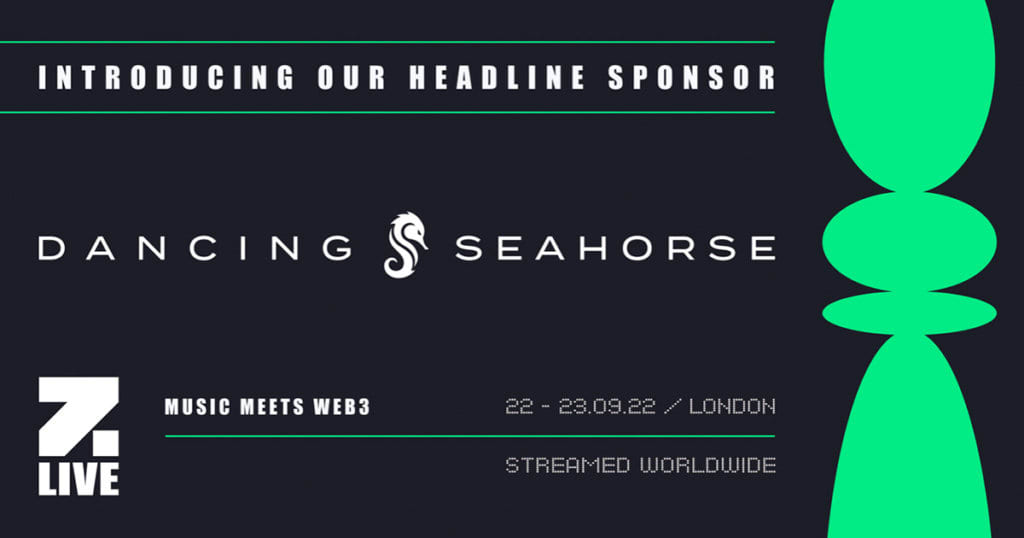 London's leading Web3 conference will be taking place from 22nd – 23rd September with innovative web3 business as leading sponsor.
Same core vision
Dancing Seahorse and Zebu Digital have the "same core vision of driving adoption and pushing for greatness in the Web3 space" says Ashton Barger, Events & Partnerships Manager at Zebu Digital. He adds that they are grateful for the support.
"We can't wait to see Dancing Seahorse achieve greatness as they are backed by a phenomenal team with some of the best connections in the music and web3 industries. We know they have some really exciting plans lined up that will wow the attendees at the conference venue and the after party!" Ashton says. 
Dancing Seahorse aims to disrupt the music industry using web3 technology. They want to fund the future of the music industry through NFTs, providing the perfect collaboration between the traditional music industry and the growing Web3 space.
Dancing Seahorse provides access to once-in-a-lifetime exclusive experiences, financial rewards and a wealth of networking opportunities – all backed by some of the world's most prominent music artists and investors.
As the headline sponsor for Zebu Live, and as firm believers in the Web3 space, Dancing Seahorse will provide fundamental support and expertise, bringing immense value to the conference and reflecting the core tenets and principles of Zebu Live.
"We are thrilled to be supporting Zebu Live as headline sponsor at this year's event. As a project that demonstrates how blockchain technology can disrupt global industries, Dancing Seahorse is perfectly positioned to be a representative of the limitless possibilities of Web3. We look forward to showcasing the brilliance of the Web3 industry, and anticipate celebrating the success of London's leading Web3 conference" says Chris Joyce, Creative Director at Dancing Seahorse about the partnership with Zebu Live.
What to expect at Zebu Live
The 2nd annual event will bring together some of the brightest speakers in the Web3 industry and showcase the talent and innovation that is taking place in the Web3 space.
Zebu Live is part of London Web3 week and will feature 40+ panels and keynote speakers exploring Web 3, DeFi, NFTs, the Metaverse, DAOs, and GameFi. Zebu Live will feature a press van, an NFT gallery by Ethereal Collective, a chill room, an alpha stage and a VIP dinner.
Zebu Live Afterparty
There will also be an unmissable afterparty at famous KOKO nightclub in Camden with free entrance for ticket holders. Music will be provided by DJ Madlib and there will be additional entertainment taking place throughout the night. Afterparty Sponsors include Dancing Seahorse, Swapsicle and Luno.
Zebu Live is also sponsored by several key organisations, including Koinly, Tezos and Algorand. These sponsorships allow the event to bring together web3 communities from around the world. Further sponsors include NEAR, Cudos, SparkWorld*, Lens Protocol, Swapsicle, The Nemesis, Bolide, Thirdweb, and 50+ more partners found here.
Follow Zebu Live on social media to stay up to date with all their latest news, announcements, and updates:
Twitter: https://twitter.com/Zebu_live
Telegram: https://t.me/+88-nt12NGD0yN2Jk
And get your tickets here.