2023 has started out with a bang for the crypto market in some regards. Bitcoin and many altcoins are showing tentative signs of increasing in value, with many major tokens nearly the next big resistance levels. 
However, what is really kicking off the new year is the fact that investors are pouring their capital into lucrative presales.
The best example of this is Dash2Trade, a comprehensive crypto trading platform that is due to end its presale soon, with only about $650,000 in D2T tokens left in its bonus round of presale. The platform, token and its presale has caused massive discussion in the crypto presale and it is already shaping up to be one of the year's biggest presales even though we're only in January.
Only $650K of D2T Token Left in One of The Biggest Presales in Recent Memory
Presales have not had the strongest 2022 and start to 2023 – which is Dash2Trade stands out so much, having raised more than $14.6 million in a presale that has already exceeded its fundraising goal. However, there is still room for investors to get in on the D2T sale, as there is an overfunding stage going on. There is still just about $650,000 in D2T tokens available that can be purchased before the presale completely closes. The token is selling for $0.0556.
The first exchange listing happens on Gate.io on January 11, so investors will want to participate before that happens. LBank, Changelly Pro, and BitMart are on the cards, and the team plans to bring D2T to more centralized exchanges in the future. The overfunding round will help support listings in Tier-1 exchanges.
Those interested can also participate in an Initial Free Offering on Gate.io with the subscription opening at 7:00 AM UTC on January 10. The airdrop value is $120,000. Of course, D2T will also be up on Uniswap, with the team set to add liquidity to the Uniswap pool at 9:30 AM UTC on January 11. This can be claimed at 10:00 AM UTC.
There are benefits to participating in the presale, including being able to access the beta version of the Dash2Trade dashboard.
Investors can purchase the D2T token with either ETH or USDT, with the minimum purchase amount being 1000 D2T. The token itself is an ERC-20 token with a total supply of 1 billion. 15% has been allotted for development purposes, 3.5% for the private sale, 66.5% for the public sale, 5% for liquidity purposes, and 5% for talent acquisition.
Dash2Trade is also conducting a $150,000 giveaway. Those who wish to participate will just have to go through a few social activities, such as retweeting or joining the Dash2Trade Telegram group. There is also an affiliate program that can offer revenue benefits to those who sign up.
Dash2Trade Offers Traders Everything That They Need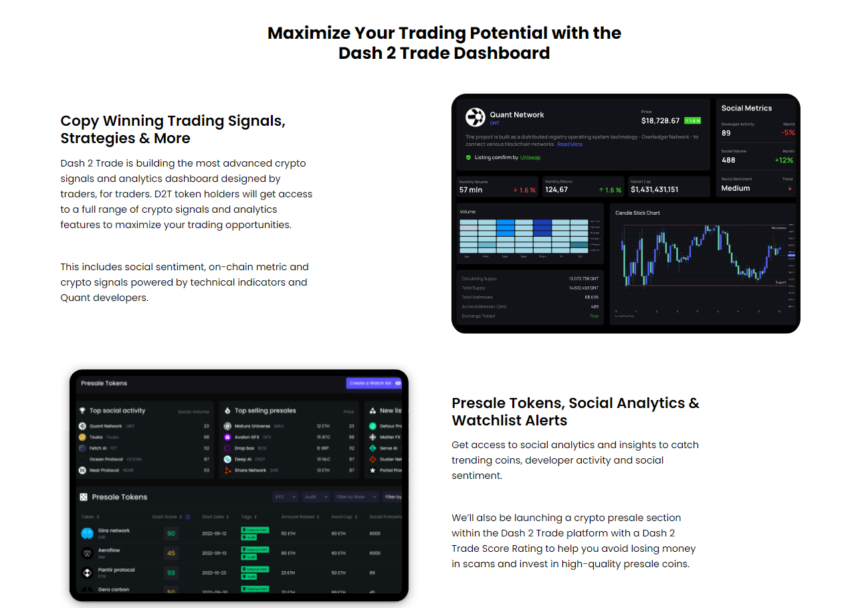 Dash2Trade has a complete set of features that make it an all-in-one dashboard.
The enthusiasm for the D2T token is solely because the platform can help crypto traders navigate an increasingly complex market with its dashboard. This interface is user-friendly and comprehensive, and market enthusiasts can handle all of their activities from a single space. Compare that to other platforms, which have some of the features that Dash2Trade has, but not all.
Think of D2T as a one-stop shop for your crypto trading needs. The platform operates on a subscription model with multiple tiers. The paid tiers are the starter tier and the professional tier, which offer varying levels of access to the features. 
Of course, there is a free tier as well – though a look at what the paid tiers will easily convince a user to opt for it. The starter tier comes at the cost of 400 D2T monthly and the professional tier is 1000 D2T monthly. It's also worth noting that token transactions will always be taxless. 
The features themselves include curated crypto trading signals, predictions, social sentiment analysis, backtesting, social trading, and trailing stops and limits. With these tools, investors will have everything they need to make informed decisions on trading assets as well as picking out gems in the market – and D2T itself is proving to be one.
There are also benefits to being a starter or professional tier member. For example, members of the latter will receive a 20% discount on subscription price and access to trading competitions where 5% of all subscription fees go into these quarterly contests.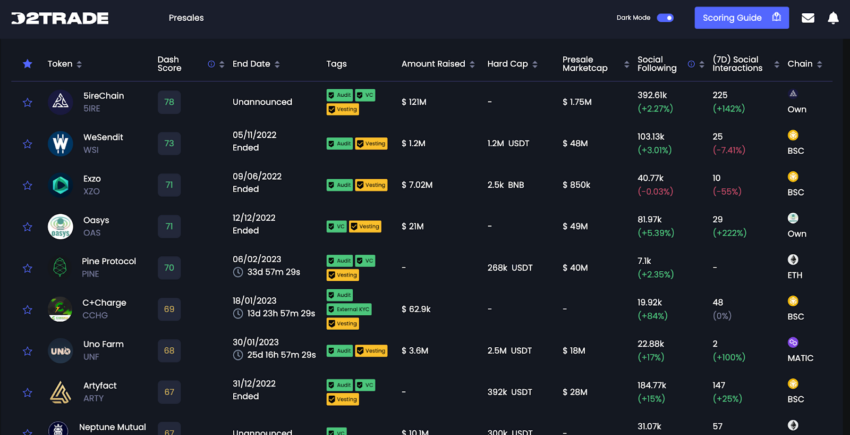 The beta version of the dashboard received rave reviews.
Presale investors have already begun taking a look into the platform's offerings as they have access to the beta version of the dashboard. They can view such data as new listings, top selling presales, and top social activity. It's also worth noting that there is a Dash Score which provides an overall assessment of the project.
Once the presale is complete, the project will focus on exchange listings, and officially launching the dashboard and subscriptions to users. The latter half of 2023 will focus on backtesting for the most optimized results, as well a risk profiler, trading competitions, and more CEX listings. Next year will be even more exciting as it will see the release of an auto trader, integrated trading strategies with CEXs, and a mobile app.  
Perhaps most importantly, the team will release the social trading, along with the social and copy trading functionality, in 2024. This is important because D2T already has a community of 70,000 traders in its ecosystem. They can put their knowledge to use for the benefit of everybody in the ecosystem, allowing them to make the best trading strategies. 
Dash2Trade To Be Listed on Exchanges
The features that it has to offer and the fact that you can subscribe to them through D2T is clearly what is attracting such a large swathe of investors. In a market that is no doubt going to be a bit turbulent in the months to come, investors want a reliable and effective tool to help them make their trading decisions. 
With the first exchange listing only 2 days away on January 11, D2T is set to have a strong start to the year and could be one of the year's dark horses. For those of you on the fence, it's worth checking out.
Disclaimer
Any third-party hyperlinks and banners don't constitute an endorsement, guarantee, endorsement, warranty, or recommendation by BeInCrypto. Cryptocurrencies are highly volatile. Do Your Own Research before using any third-party services or considering any financial action.