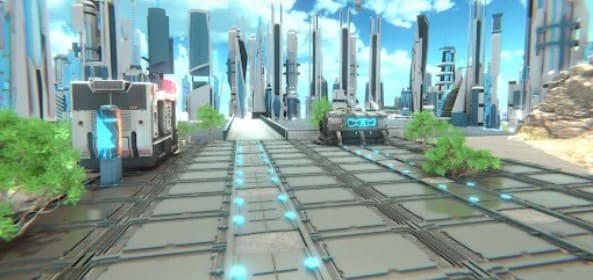 Developed by the team that designed the award-winning educational multilingual robot ROYBI, UniGalax is taking education to a whole new level. UniGalax is the world's first edutainment metaverse, that utilizes entertainment and educational tools to revolutionize learning in the metaverse.
We sat down with Elnaz Sarraf, the CEO, and founder of ROYBI and UniGalax, to talk about the project.
Sitting in a quiet room aside from the hustle and bustle of Blockdown 2022, Elnaz explained how UniGalax was born due to the desire to expand ROYBIs audience range and the potential of the Blockchain to create something entirely new:
"Over the past two years since ROYBI, we've been constantly thinking about how to expand our audience and transition from pure hardware to SAS."
"And based on the research, we saw a lot of potential in blockchain technology and web3. And that's where the idea came that we could actually create something amazing that hasn't been done before that utilized digital assets."
Continuing, Elnaz explained the concept behind UniGalax as a platform to utilize digital assets through education:
"UniGalax will consist of multiple galaxies, where people can build and create. We are going to work directly with the educators and creators to help them transition from web2 to web3 and convert their assets into NFTs, which will give them revenue streams."
"And then we are going to incentivize students based on the progress on the chain, so they can earn and learn, you basically pay them for their attention."
In traditional education, collaboration nearly always facilitates a degree of education and creativity, whether that's through disagreement or alignment of ideas. Something which is at the core of UniGalax's learning philosophy:
"We really want to create collaboration, and we want to incentivize collaboration. For example, we would throw contests and even give some grants to universities to bring students on board and to create different programs and activities. We really want the community to be as creative as possible", explained Elnaz.
Elucidating further:
"I see everything as collaboration, for example, from our metaverse to the sandbox, there doesn't have to be any competition because we can collaborate together. Because, again, they're different platforms, they do different things. But we can mix audiences and create something quite unique"
But unlike other metaverses that also encourage cooperation and include entertainment/game elements, UniGalax is different due to its learning/education focus:
"Our main focus is education. Sandbox focuses more on gaming and Decentraland on party events. We definitely want to focus on education and educating people, because our audience is built from ROYBI".
Asked what she and her team have learned from ROYBI, Elnaz explained that testing and making sure the user experience is both simple and easy to use was of utmost importance when creating UniGalax:
"Learn to be patient and do a lot of testing. Likewise, focus on the user experience. You know, that's really, really important. Even now, for the metaverse, I constantly say we need to keep it simple.
"The user experience needs to make sense, especially for the audience that is not really aware of how things work in the blockchain space."
Similarly, the experience of building a community and Marketing ROYBI has also been of benefit when building UniGalax:
"For ROYBI, we initially started crowdfunding. That was a great learning process, we had to gather an audience through social media before we even launched which was very stressful but a really good experience. And we are going to use that experience here as well."
And plenty of experience, the team over at UniGalax has. We would like to thank Elnaz and her team for taking the time to interview with us. You can check out the fascinating project here.
This article was first published on The Metaverse Insider on June 15, 2022
Find more related information on The Metaverse Insider.