A month after the exchange's new CEO disclosed company restructuring plans, FTX Trading and its affiliated debtors will put LedgerX and its European and Japanese digital assets subsidiaries up for auction.
The troubled company seeks the bidding approval of the entire common stock of Embed Financial Technologies. Additionally, the complete interest in LedgerX held by Ledger Holdings is up for sale.
FTX Japan or FTX Singapore, held by FTX Japan Holdings, are also tentatively on the auction list. This will also include an auction of FTX Europe held by FTX Trading.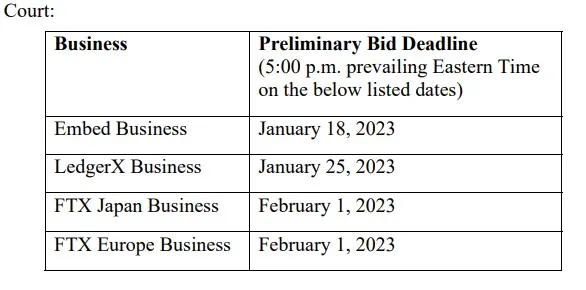 LedgerX, which creates platforms for the institutional exchange of derivatives for digital currencies, is a crucial FTX business.
FTX Selling Off Solvent Businesses
FTX debtors said in a filing with the Delaware bankruptcy court that they 'believe a number of these entities have solvent balance sheets, independent management, and valuable franchises.'
The exchange filed for Chapter 11 bankruptcy in the U.S. last month amid a liquidity crisis. The entity claims that there has been a great deal of third-party interest in buying the businesses since the proceedings commenced.
Meanwhile, the filing anticipates that a more extensive marketing campaign will result in several proposals for the businesses. Given the large number of unsolicited inbound inquiries the businesses have already received, this is likely to be true.
Debtors Claim High Third-Party Interest 
John Ray, the current CEO of FTX, also said in November, after a strategic review, that the exchange's licensed businesses in the U.S. and abroad had healthy financial sheets, making them significant brands.
The Bid Procedure, the debtor noted, will benefit all the stakeholders through a fair, open, and transparent process.
Recently, the U.S. Department of Justice created a nine-member committee to represent creditors in the FTX proceedings. The committee reportedly consists of certain account holders, investment funds, and the US crypto company Genesis' subsidiary.
"The longer operations are suspended, the greater the risk to the value of the assets and the risk of a permanent revocation of licenses," the document added.
The filings came soon after federal prosecutors accused Sam Bankman-Fried of conspiring and committing wire fraud.
Federal prosecutors in the Southern District of New York have begun the long-awaited prosecution of the disgraced founder of FTX.
Meanwhile, as per the most recent BeInCrypto report, Sam Bankman-Fried will continue to be housed in the Bahamas Department of Corrections through Feb. 8.
On Dec. 15, reports noted that Sam Bankman-Fried submitted a fresh bail application to The Bahamas Supreme Court after a magistrate judge rejected the initial bail plea.
That said, a bankruptcy court hearing set for Friday may provide more information on the losses following FTX's collapse.
Disclaimer
BeInCrypto has reached out to company or individual involved in the story to get an official statement about the recent developments, but it has yet to hear back.