As if the news wasn't bad enough in the crypto industry, Gemini customers are bracing for a wave of phishing attacks.
On Dec. 14, the Gemini crypto exchange reported that some of its customers had been the target of phishing campaigns. It added that it believes they are the "result of an incident at a third-party vendor."
According to Chinese media outlet Wu Blockchain, as many as 5.7 million users were affected. The incident led to the leaking of customer email addresses and phone numbers, it added. However, the hackers did not get access to the full phone numbers as some were obfuscated.
Additionally, the company confirmed that account information and systems were not compromised:
"No Gemini account information or systems were impacted as a result of this third-party incident, and all funds and customer accounts remain secure."
Gemini failed to finger the responsible party, referring to them as a "third-party vendor." It posted a list of recommendations for those affected. According to blockchain security firm Certik, Gemini went offline briefly after the incident was publicized.
Phishing is a type of social engineering attack. An attacker sends a fraudulent message designed to trick a person into revealing sensitive information. This will enable them to deploy malicious software or ransomware.
One of the industry's largest data breaches happened to hardware wallet manufacturer Ledger. In fact, the company was targeted twice as personal details from thousands of customers were sold on the dark web. Victims' physical addresses were also leaked, and many suffered phishing and physical threats. The company made no effort whatsoever to compensate those affected.  
The Winklevoss twins' Gemini exchange was embroiled in the FTX fallout due to debts with embattled crypto lender Genesis.
In November, BeInCrypto reported that more than $1 million had been stolen in phishing attacks due to the Monkey Drainer contract.
Crypto Market Outlook
Crypto markets have turned red again today as the consolidation continues. Furthermore, total market capitalization has dropped back below $900 billion following a 1.1% decline on the day.
Bitcoin surged to $18,300 a few hours ago but could not hold on to those gains, falling back to Wednesday levels. As a result, the asset was trading at $17,726 at the time of press.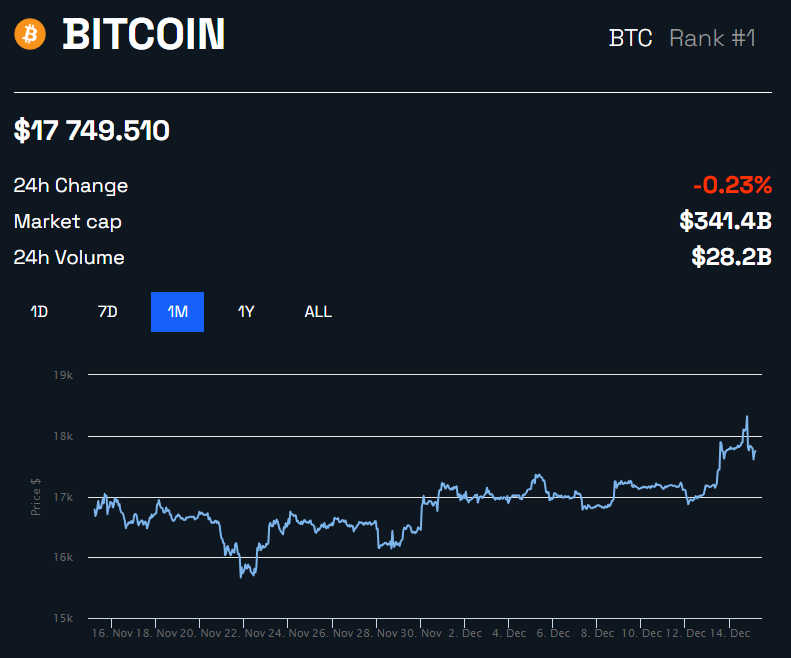 Disclaimer
BeInCrypto has reached out to company or individual involved in the story to get an official statement about the recent developments, but it has yet to hear back.