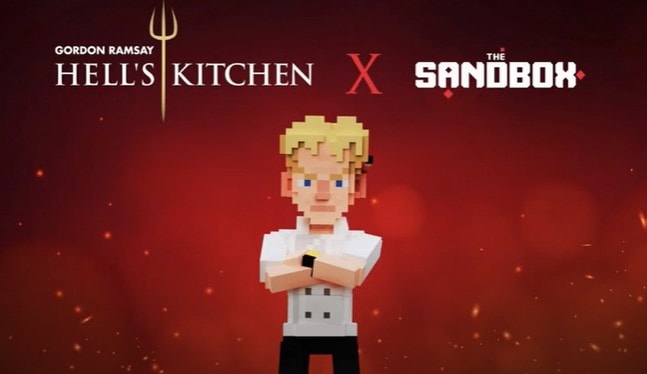 The Sandbox gaming metaverse is continuing its focus on partnering with leading brands and celebrities. For this new venture, it has partnered with ITV Studios to bring Gordon Ramsay's reality show Hell's Kitchen into the metaverse.
Ramsay celebrated the news on Twitter stating "Hell is coming…to the metaverse."
Hell's Kitchen has over 1.64 million subscribers on YouTube and was broadcast in 24 countries. The show which sees chefs compete to run one of Ramsay's restaruarnts has been nominated for five Emmy awards.
The metaverse gaming version of the show will be hosted on ITV's LAND in The Sandbox. Hell's kitchen themed digital assets, including limited edition avatars will be available for players to use within the experience.
It is the first food focused experience in The Sandbox and could set a precedent for more culinary related metaverse activities in the future.
"We are shaping the metaverse so that it becomes the expression and expansion of all real-world activities, through the creative opportunities offered by technology: who else better than Gordon Ramsay and Hell's Kitchen could create the first dining and social experience in the metaverse of The Sandbox? "explains Sebastien Borget, COO and co-founder of TheSandbox.
Exploring the entertainment potential of the metaverse
"There is nothing more exciting for me than exploring a new territory, be it creating a signature dish, a new restaurant concept, a new show or, as in the case of The Sandbox, putting to experiment with a virtual experience, "says Gordon Ramsay.
Neil Bowler, ITV Studios Game Show Manager, adds," We are at the beginning of exploring the potential entertainment brands will have in the metaverse, so we are very excited to bring Hell's Kitchen in The Sandbox. Both are innovators in their respective fields, which is why this partnership cannot fail to be a winner. We are convinced that fans of the show around the world will enjoy interacting with the culinary experiences set in a virtual Hell's Kitchen in the metaverse of The Sandbox. "
The Hell's Kitchen show has just been renewed in the USA for seasons 21 and 22.