Leading crypto exchange OKX has not processed a withdrawal in the last seven hours due to issues with its cloud service provider.
The crypto exchange announced that its users' funds were safe and it was already in touch with the service provider.
No Withdrawals or Deposits on OKX
As of press time, the OKX status page showed that the exchange was not processing deposits or withdrawals on its platform. According to the exchange, these services were suspended because of a "3rd cloud service error."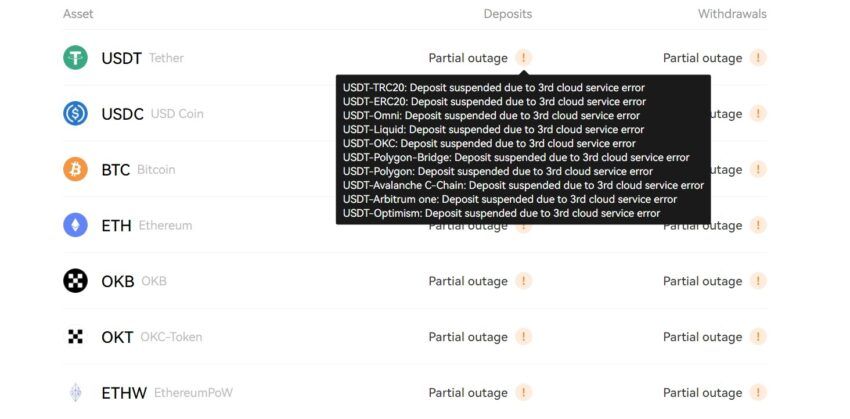 On its Twitter page, the exchange stated that there was an "intermittent connection error" with the service provider.
The exchange later revealed that its cloud service provider was Alibaba Cloud. A screenshot from OKX showed that Alibaba was fixing an equipment failure at its Hong Kong Zone C. It added that it was ready to resume immediately after the cloud provider fixed its issues.
Etherscan data showed that one of OKX's hot wallets had not processed a withdrawal since 2:47 a.m. UTC -over seven hours.
Wu Blockchain reported that Star Xu, the founder of the OK group, said that the incident could become a major scandal in the history of Alibaba Cloud.
Earlier, another crypto exchange, Gate.io, said its users might experience delays in their deposits and withdrawals due to intermittent connection interruption.
Centralized Exchanges Under Spotlight
Centralized crypto exchanges have come under increased scrutiny since FTX's implosion in November.
Gemini, a leading US-based crypto platform, was offline for several hours on December 16 because of a "scheduled maintenance." The exchange saw downtime on Nov. 16 due to an Amazon Web Services EBS outage.
Meanwhile, other top exchanges like Binance witnessed a surge in withdrawals over the past week. The exchange processed over $5 billion in withdrawals, with CEO Changpeng Zhao disproving all the FUD surrounding the firm.
Also, several auditing firms have dumped their crypto exchange clients. Hedge fund manager Michael Burry recently tweeted that crypto exchange audits were essentially "meaningless" because the auditors "were learning on the job."
BeinCrypto reported that the audit process in the industry was challenging due to the lack of experience and specialized expertise.
Jeff Dorman, the CIO at investment firm Arca, wrote that "the auditors are still learning themselves." He added:
It's one thing to prove you have assets in the wallet; it's quite another LONG ordeal to prove you have access to all of them.
Disclaimer
BeInCrypto has reached out to company or individual involved in the story to get an official statement about the recent developments, but it has yet to hear back.