Citizen journalists reportedly sighted FTX founder Sam Bankman-Fried (SBF) at the business class lounge of John F. Kennedy (JFK) international airport.
The sightings come just three days after SBF was released on a personal recognizance bond of $250 million. Litquidity Capital tweeted photos that one of its followers took of SBF in the JFK airport lounge.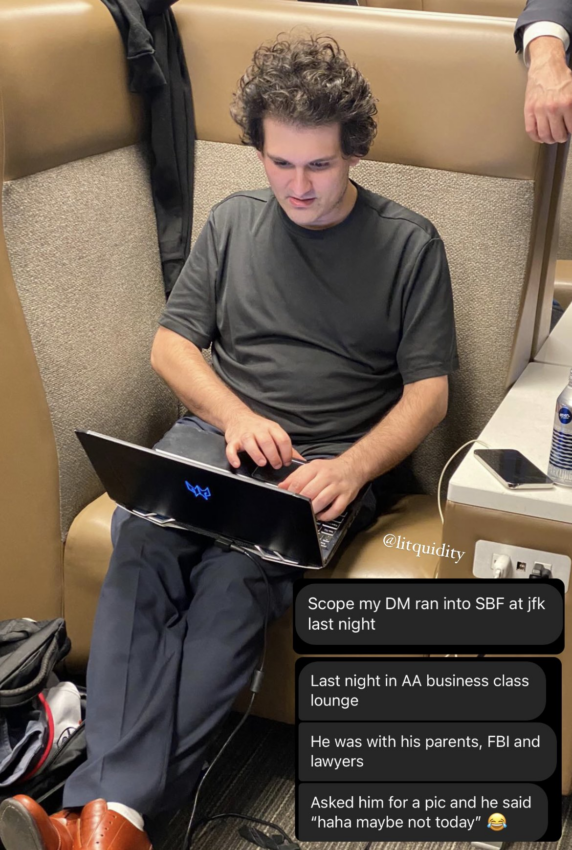 The pictures show SBF operating a laptop while sitting with a mobile phone next to him. Other community members confirmed that the picture was taken at the Greenwich (Business Class) lounge in American Airlines' Terminal 8.
The source noted that SBF was accompanied by his parents, lawyers, and FBI executives. Another picture also showed the disgraced ex-CEO wearing a beanie on an American airline flight.
The pictures have generated much discussion on crypto Twitter, with many questioning how he could afford a business-class flight.
Others are bringing back his earlier claims that he had no access to his professional and personal data. SBF initially said he might not testify before the US Congress because he lacked access to his data. However, the lawmakers insisted that he must testify before them.
SBF was arrested at the request of the US government a few hours before the scheduled hearing.
Some users noted the double standards of the Justice system in America that allows someone like SBF, who committed a $10 billion fraud, to walk free and "chill."
Many also pointed out the fact his shoes did not have laces. The laces were likely removed by authorities to prevent him from any self-harm.
Updates on His Case
A new judge is yet to be assigned to his case after the former US District judge stepped down due to a potential conflict of interest. The judge, Ronnie Abrams, noted that her husband is a partner at a law firm that previously represented FTX.
Additionally, court filings reveal FTX paid a retainer fee of $12 million to the law firm Sullivan & Cromwell LLP.
Meanwhile, two of his acolytes, Caroline Ellison and Gary Wang, have entered into a plea agreement with US prosecutors.
Disclaimer
BeInCrypto has reached out to company or individual involved in the story to get an official statement about the recent developments, but it has yet to hear back.