The Sushi 2.0 roadmap, upcoming cross-chain integrations, and updated tokenomics have not just attracted social volumes and retailers but also the eyes of big investors. 
Decentralized exchange (DEX), SushiSwap, received an investment of about $5.2 million in the SushiSwap governance token by the asset management giant GoldenTree on Oct. 5.
As news of the investment broke, the SUSHI price jumped by close to 20% amid renewed bullishness for the token.
'Incredible potential'
SushiSwap is a fork of Uniswap created with added liquidity mining and governance features. The Ethereum-blockchain DEX was founded by pseudonymous open-source developers Chef Nomi and 0xMaki. 
On Oct. 4, the decentralized autonomous organization (DAO) behind SushiSwap elected Jared Grey as the new "head chef," or CEO. The news of a newly elected CEO and the recent investment from GoldenTree have aided SUSHI's bullish price momentum over the last couple of days. 
A discussion from SushiSwap revealed that GoldenTree would focus on SUSHI's tokenomics as well as general design and strategy, among other things. GoldenTree further added, 
"We believe Sushi has incredible potential. Although the community has certainly been through some tough challenges, we've been amazed at the resilience of both the core team and the community in the face of these speed bumps, they have continued to build and release top-tier products."
A bright future for SUSHI?
Amid the many new developments, SUSHI has managed to appreciate by almost 25% over the last three days. With retail volumes supporting this price rise, the RSI noted a dramatic uptick highlighting higher buying pressure in the market.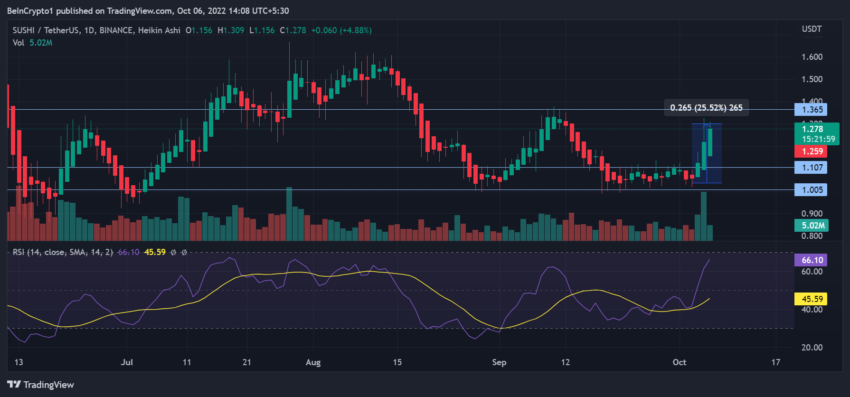 At the time of press, SUSHI was trading at $1.26. This is a 12% rise in the daily time frame, and trade volumes spiked to $1.38 million. 
The renewed bullish activity is reflected in the rising social volumes, supported by an uptick in the weighted social sentiment. Alongside bullish social sentiment, a spike in development activity further bolstered the recent price growth. 

Notably, daily active addresses rose 56% from the previous day as network activity increased. 

SUSHI's supply distribution shows that addresses holding 10,000 to 100,000 tokens and 100,000 to 1 million tokens rose in tandem with the price as whales sought more accumulation. 

While SUSHI's trajectory looks promising, if the bullish setup fails, a pullback to the lower $1.10 and $1.00 mark wouldn't be surprising. 
Furthermore, a slight rise in supply on exchanges also suggests that some profit taking might occur, which could further hinder the price growth in the near term.
Disclaimer
All the information contained on our website is published in good faith and for general information purposes only. Any action the reader takes upon the information found on our website is strictly at their own risk.