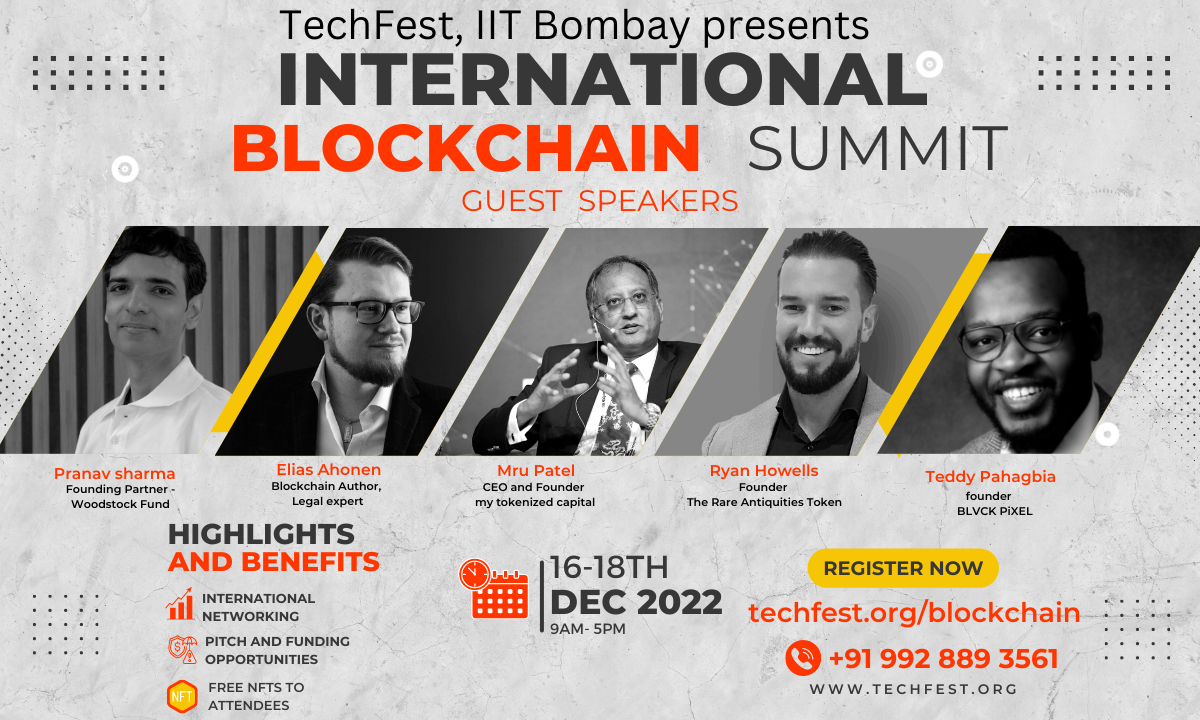 Techfest IIT Bombay, Asia's Largest technology festival is hosting the International Blockchain Summit which will take place from December 16-18, 2022, at IIT Bombay Campus, Powai.
The Techfest Blockchain Summit will bring together some of the world's leading crypto influencers, policymakers, key government delegates, media, family offices, HNIs and other curated investors, among others, to foster the crypto and blockchain community across the globe. It is one of the most elite gatherings of the global crypto and blockchain ecosystem.
Event highlights
2 – Day Workshop
Guest Lectures
International Networking
Panel Discussion
Funding Opportunities
Pitch Competitions
16 Keynotes
And last but not the least, FREE NFTs!!!
Speakers
Kunal Sanghavi: CFO, HDFC Securities Limited
Mru Patel : CEO and Founder,My Tokenized Capital
Teddy Pahagbia: Founder, BLVCK Pixel
Ryan Howells: Founder, The Rare Antiquities Token
Elias Ahonen: Blockchain Author, Legal expert
Pranav Sharma: Founding Partner – Woodstock Fund
Shiv Kumar Bhasin : CTO and COO, National Stock Exchange
Sathvik Vishwanath : CEO, Co-founder, Uno Coin
Sonny Mohanty: Co founder, Bitqin Exchange
Pareen Lathia: Co-founder, Builder's Tribe
Shantnoo Saxsena: Founder, Encryptus
Lokesh Rao: Co-Founder and CEO @ Trace Network Labs
Timeline
December 16, 2022 (Day 01): 10 keynotes, 2-hour workshop.
December 17, 2022 (Day 02): 6 keynotes, panel discussions, 3-hour workshop.
December 18, 2022 (Day 03): Pitching and funding opportunities.
About Techfest, IIT Bombay
Techfest is the annual science and technology festival of the Indian Institute of Technology Bombay.
Started in 1998, the technological ambiance of TECHFEST IIT BOMBAY has grown exponentially and has now flourished into Asia's largest science and technology festival.
Techfest is an entirely non-profitable student-organized body. Techies and technologies all over the world are always welcomed with warm hands into this techie paradise.
Techno-enthusiasts have always been the whole and sole essence of this prestigious festival.
The activities culminate in a large three-day event within the campus of IIT Bombay which attracts people from all over the world, including students, academia, corporates, and the general public.[
International Robowars, Technoholix, Exhibitions, International coding challenges, Guest lectures, Ozones, Automobile Mechanics, financial fitness, Automobile Mechanics, Underground Robotics, Ethical Hacking, ArduinoBotix All In Cloud, 6th sense Robotics and many such technoholic events together sum up the grandeur of this fiesta.
Lars Rasmussen (co-founder of google maps) , Kathryn Leuders (associate administrator at NASA), Hon'ble Tarja Halonen (first women president of Finland), and many more honorable speakers will be joining Techfest22.
In order to witness this revolutionary TECHFEST, mark your valuable presence at IIT Bombay Campus, Powai, on December 16-18, 2022.
Disclaimer
The information provided in independent research represents the author's view and does not constitute investment, trading, or financial advice. BeinCrypto doesn't recommend buying, selling, trading, holding, or investing in any cryptocurrencies