Being backed up by over 500 universities due to its unique approach towards students and cryptocurrencies, Student Coin succeeded in selling all its STC tokens dedicated to the ICO.
Although the Launchpad was intended to last until April 30th, the 150th phase ended nine days sooner due to the popular demand for the STC token. Therefore, in less than two months, Student Coin sold no less than 5 billion tokens.
Now that the ICO is over, all that's left to do is go to the crypto exchanges and get it while it's fresh – because it has all the chances to increase in value quickly.
Where can you buy the STC token?
First of all, you can buy it directly from the Studentcoin.app – this is the easiest way to get it in just a couple of seconds.
At the moment, eight crypto exchanges listed the STC token up for trading: Uniswap, Waves Exchange, Bithumb Global, CoinTiger, Coinsbit, P2PB2B, Bitcoin.com Exchange, and KuCoin.
And take note that not every coin gets to be listed on KuCoin, being really strict with who they are working with. This is not surprising, since we are talking about a platform with over $200 billion transaction volume.
Starting from tomorrow, Student Coin will be also available on ProBit – on 15 May 2021.
And for the following weeks, they will be joined by HitBTC, Changelly, Changelly Pro, CrossTower, Bequant, ACDX, and one other major exchange that will be announced soon.
What is the use of the STC token?
If this is the first time you heard about it, note that the STC token is the core of an entire ecosystem built especially for students and entrepreneurs.
Therefore, the STC token is not just for trading, but it offers the opportunity to build your own token and sell it through a crowdfunding proposal.
This project aims to provide students with another option of paying their tuition besides a bank credit. You may already know that getting a loan from a bank comes with a lack of transparency, variable interest, and almost no security.
Now, all users have to do is to customize their token on the platform, whose value will be based on the STC token. After that, they can initiate a crowdfunding proposal on the platform, get the money needed, exchange them, and pay their tuition right off the bat.
And even better, the investors will be paid back cyclically by the students just after they graduate and find a steady job. This process can also be used by entrepreneurs, who will pay back the money just after their company generates enough profit.
What other products does Student Coin have?
As we said before, Student Coin is a whole ecosystem, which means there is more than the STC token on the line.
Let's take a look at them!
The learning section
Here you can find a lot of courses about crypto, organized by the level of difficulty.
However, as opposed to other educational crypto platforms, Student Coin made the courses interactive. Each section of the chapters comes with a short test, whose passing is mandatory to read the following pages.
The STC Wallet
Here, users can access their assets, whether they are obtained from trades or created by them. To get to your account, Phemex needs a unique code that is sent to your email for a plus of security.
Besides that, you can access weekly insights, get all the important news about the STC Token, and even stake your assets up to six months for 5 to 13% APY.
The staking option was released on May 6th, and in less than 24h, over 30% of tokens got staked, which means no less than 1.5 billion STC of all the tokens sold in the Launchpad.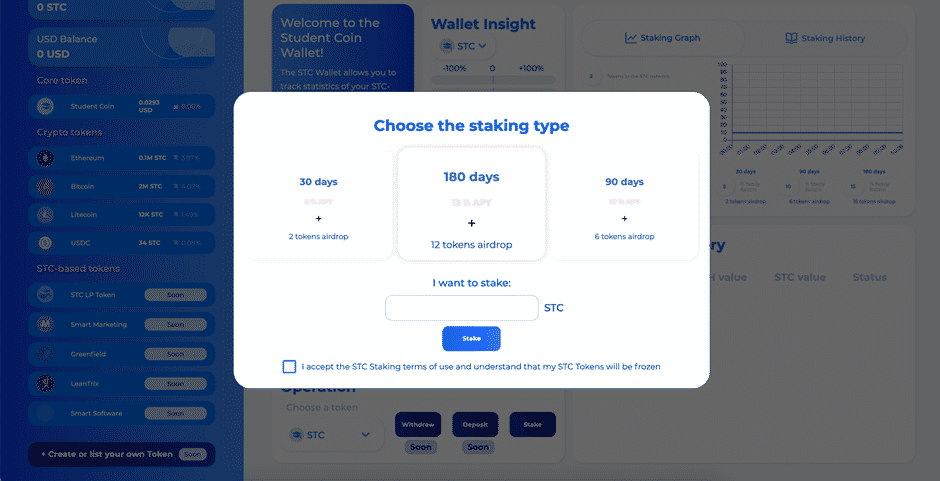 The STC Terminal (available by the end of July)
We talked about it earlier. This app allows users to customize their own STC-based token without having any kind of technical knowledge. And there's a lot of options to choose from:
Personal tokens;
Startup tokens;
Corporate tokens;
DeFi tokens;
NFT tokens.
The STC Exchange (available from Q3 2021)
Which is self-explanatory, being the place where users can easily trade their assets for crypto or fiat with greater value.
Who backs up the STC Ecosystem?
Student Coin was built with the help of 44 team members from 12 different countries, all of them led by the young author of "Cryptocurrency Encyclopedia: the comprehensive guide through the 100 most important cryptocurrencies".
Besides him, in the team, we can also see the former CTO of IBM, Karolina Marzantowicz, and Stanford University teacher Andrew Kusmierz.
Now that you know who made all of this happen, you are ready for the next step – getting the STC token and joining the crypto community!
Instagram: https://www.instagram.com/student.coin.world/
LinkedIn: https://www.linkedin.com/company/student-coin-worldwide/
Twitter: https://twitter.com/studentcoinorg
Facebook: https://www.facebook.com/studentcoin.org
Telegram: https://t.me/studentcoin
Reddit: https://www.reddit.com/r/Studentcoin/
Discord: https://discord.gg/Nx65dMZcMt
Our site is funded by affiliate links and advertising. If you sign up or purchase through links on our site we may receive remuneration.