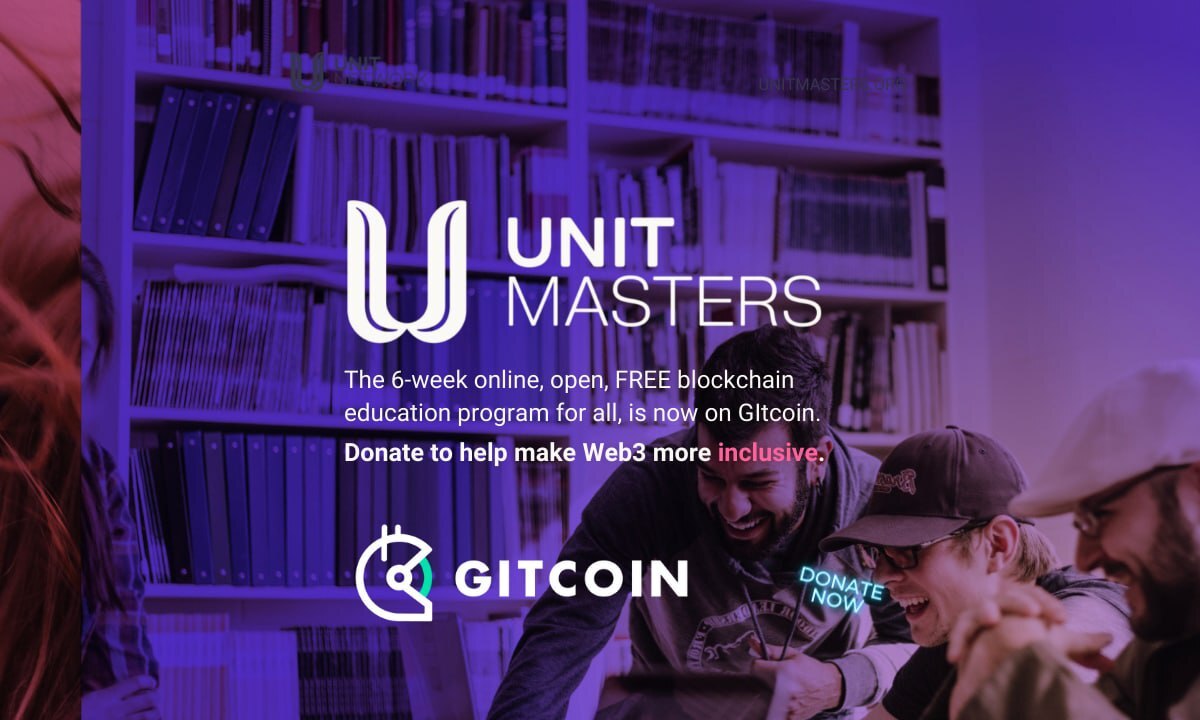 Unit Masters is calling upon the community to help by donating money to further fund our Masters's degree which is being managed as a global public good.
Unit Masters, the leading 6-week online blockchain fundamentals teaching program has for the past two years built a respectable network of expert speakers, amazing students, partners, and collaborators.
Unit Masters has in the past 2 years educated more than 10.000 students on blockchain fundamentals entirely free of cost for anyone interested to learn about blockchain technology and cryptocurrencies, being able to follow on whatever device they could afford as long as they had an internet connection.
Our participants are from all over the globe and 50% of our participants are female while 54% come from emerging economies. 
Recently, we had our Gitcoin grant approved and this time we are calling upon our community to help by donating money to further fund our Masters's degree which is being managed as a global public good. By donating money, you become part of the Unit Master's journey and help millions of people to be educated on the fundamentals of blockchain by donating what you can. Your donation will help onboard the next 10.000.000 people to the blockchain ecosystem by the end of 2025!
Your donation will help us realize our ambitious and bright future plans, milestones, and commitments in terms of delivering quality education to millions of people by the end of 2025. Specifically, you would help us:
To Continue launching Unit Masters 6 Weeks certified and free blockchain program cohorts 12 (September) and cohort 13 (November) in 2022, training more than 100k students across the globe as well as subsequent cohorts.
To Maintain gender parity in our cohorts (already at 50/50).
To Launch the first real-life Unit Community Retreat (November) in 2022 to develop the ecosystem from students into community contributors.
To Translate the existing English Curriculum into Spanish, German & French to reach local communities in LatAm, German-speaking regions, and French-speaking Africa.
To educate 1.000.000 people by the end of 2023. 
To educate 10.000.000 people By the end of 2025.
6 – 8 language expansion of the Masters to reach and educate more people in their native language.
For our part, every single dollar donated will be used with extreme care and diligence to maximize the improvement of our master's program and the learning experience of our future students as well as reach out to new students and raise awareness of our brand in order to educate more people at scale. You can donate by:
Clicking here
Adding the grant in your cart
Scrolling up to the cart and to checkout
Choosing your currency and the amount you want to donate
Connecting your ethereum wallet, ZK Rollup or Polygon Wallet and signing the transaction
Disclaimer
All the information contained on our website is published in good faith and for general information purposes only. Any action the reader takes upon the information found on our website is strictly at their own risk.