The number of new job openings in the US markets decreased by 6.2%. What is in store for the U.S. markets and Bitcoin?
It is the 2nd largest decline in American history so far. The healthcare and social assistance sector saw one of the least vacancies.
July had nearly two job openings for every unemployed person. It has dropped down to 1.7 now. Employers will have more say as the demand for labor is rapidly decreasing in the markets.
Will unemployment rise in the US economy?

Despite two consecutive quarters of negative GDP, the US labor market stands strong, with the latest unemployment data at 3.7%. However, the decrease in new job openings is an early sign that the American economy might see unemployment increasing in the coming months.
The FED is aggressively raising the interest rates to curb inflation to its target of 2%. Due to this, the demand is tightened in the labor market.
If unemployment increases, the purchasing power of people decreases. There will be less demand for various commodities. People will get mindful of their spending, resulting in the inflation numbers coming down.
What is the impact on Bitcoin?
As unemployment increases, the economy might head into a recession. A recession is a period of decline in economic activities. Retailers prefer to keep cash handy instead of investing it in the markets. They might choose to avoid highly volatile investment instruments like Bitcoin.
Historically, the decrease in new job openings has largely correlated to the price of the S&P 500. It can be seen from the charts that the S&P 500 and job openings bottomed at nearly the same period during 2003, 2009, and recent 2020 bear markets.
Is the market witnessing a bear rally?
There are high chances that the S&P 500 is witnessing a bear rally right now, as the job openings have just started to decline. The inflation rate is nowhere near the target of the FED. Unemployment will not peak until the FED loosens its monetary policy, but ironically they are in the process of tightening it even more.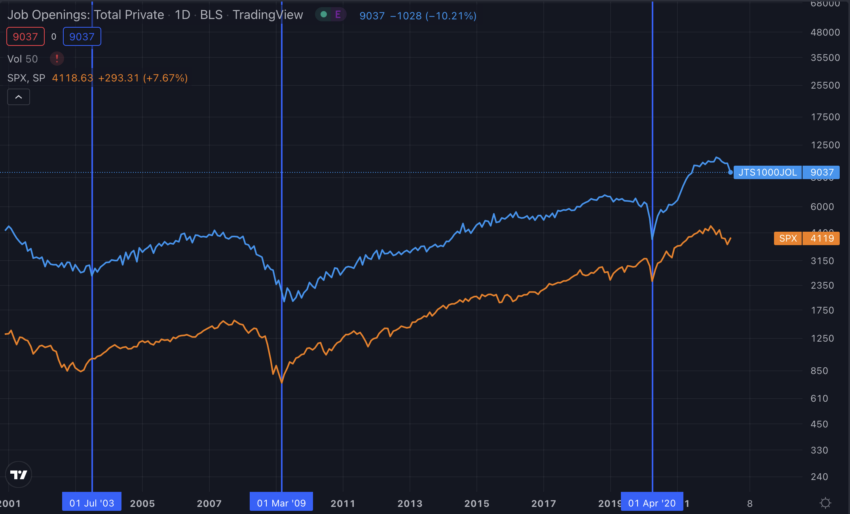 The price of Bitcoin hugely correlates with the S&P 500. As seen in the charts, both SPX and BTC bottomed at nearly the same time in December 2018 and March 2020. Further, they topped the 2021 bull rally at almost the same time in late 2021.
If more blood is yet to come in the equity markets, the same might also be seen in the crypto markets.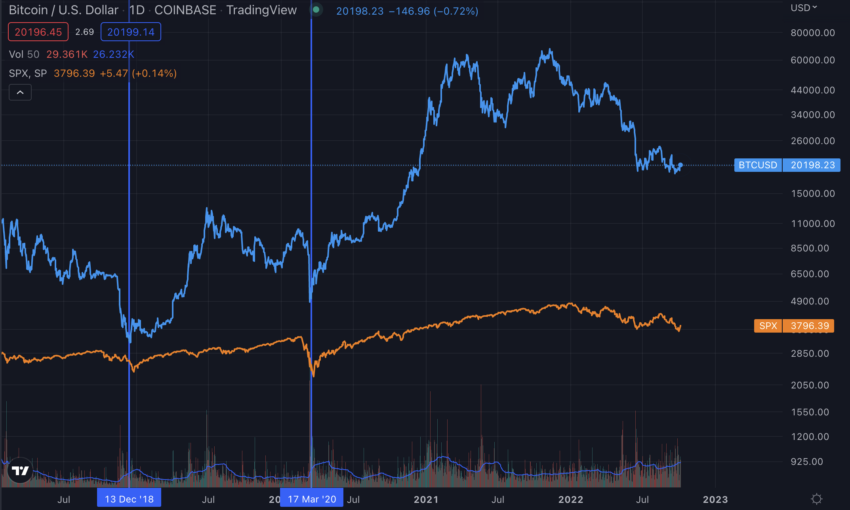 For Be[In]Crypto's latest Bitcoin (BTC) analysis, click here
Disclaimer
All the information contained on our website is published in good faith and for general information purposes only. Any action the reader takes upon the information found on our website is strictly at their own risk.